FULL-SERVICE JUNK REMOVAL IN EAST POINT
The Go-To Experts for Junk Removal in East Point
Locally owned and operated out of Atlanta, White Gloves Junk Removal & Dumpster Rentals is your go-to team of professionals when you need junk removal in East Point. We know how much of a hassle junk can be, and sometimes dealing with junk removal companies can be a hassle, too! We're here to simplify the process for you with our expert cleanup services that we offer at unbeatable prices, helping you save time and money. To get started on your appointment, simply call us over the phone, visit our Contact page, or use our online booking tool. For dumpster rentals and hauling services that simply can't be beat, get in touch with White Gloves today!
Do you have an old mattress that you need hauled away? Perhaps you have a whole home full of junk that you need hauled. When it comes to tools, training, and know-how, White Gloves has it all! Whether your junk removal project is big or small, we've got you covered. We proudly offer same and next-day appointment availability, which means we could have your home junk-free as soon as today or tomorrow. Our locally owned and operated company is licensed and insured, which is more than most junk removal companies can say!
Full-service junk removal is great for projects like:
Renovation Cleanups
Office Cleanouts
Appliance Removal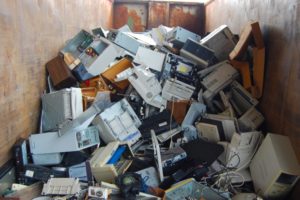 Larger Renovation Cleanups
Estate Cleanouts
Deck Removals
Junk Removal in East Point Made Simple
Little by little, junk has a way of piling up over time. Why let it bring you down when you could be leaving it to the professionals? Here at White Gloves, we specialize in it all–furniture removal, hot tub removal, indoor cleanup, and much more! When you get in touch with us for junk removal in East Point, you can kick back and relax knowing that your home will be junk-free in a fraction of the time it would take for you to do it yourself. If you're worried about prices, we'd like to put your mind at ease, so give us a call and we'll give you a free estimate over the phone. Still have questions about our service? Check out our reviews!
Here's how our process works:
On the day of your appointment, our team will call you 30 minutes before we get to your door.
Once we're on-site, show us the items you'd like to have hauled away.
We will give you a firm price quote upfront!
As soon as you approve our quote, we'll get started then and there.
It's that simple! White Gloves helps you take all of the hassles out of the equation.
For unparalleled dumpster rentals and junk removal in East Point, you can trust White Gloves! You could try to handle your junk removal project all on your own, but why risk personal injury or damaging your property when we could help you? Why wait? Contact White Gloves today!
Same-Day Service in East Point
It's finally time to say goodbye to that old, busted appliance or couch. White Gloves Junk Removal & Dumpster Rental is here to support you. When you get in touch with us, you will know right away that you are doing business with an honest, hardworking team of professionals. Feel free to get in touch with us if you have any questions about what we take or our service areas.
Reclaim Your Free Time!
With a junk-free home, you may have more free time than you know what to do with. Why not take the family to Zoo Atlanta or just spend a day relaxing? The possibilities are endless once you are free of junk!